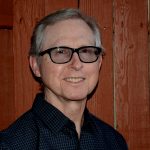 Life began in Hawaii (don't remember a bit of it) followed by moving to various states in Middle America and the U.S. South.
Except for homework, loved being a kid. Did not want to grow up. Cried at six years old when dad said it would happen someday. He was right. It happened . . .
. . . restaurant dishwasher, factory worker, city directory knock-on-doors data taker, shoe department manager, men's clothing salesman, college, military, newspaper editor, corporate communicator, communications business owner.
​Along the way, got married, got kids, then dogs and sixteen other kinds of pets, but not all at the same time.
Through everything, the one great undercurrent was reading for pleasure — cereal boxes, comics, magazines, newspapers,  books. In fact, the best thing about getting out of college was finally being able to read what I wanted.
Now that I'm no longer writing and editing for newspapers and corporations, I have plenty of time to write what I want. Nice.
Personally, I never did the hula, so I put roots down in Texas. My family is bilingual in English and Spanish, and I'm teaching myself French while struggling to beat the computer at Scrabble.