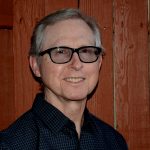 I was born in paradise — Hawaii — but I was a military brat so we left when I was one-year-old, precluding any future happiness as a surfer, beach bum or hotel pool boy.
Still, I can't complain about my childhood. Going to school barefooted in Alabama was great. In Virginia, I got to dodge frozen dog poop that my best friend threw at me; he had gloves, I didn't.
In high school in Ohio, I didn't get a letter sweater even though I was an athlete on the chess team.
At the University of Texas-Austin, I gave up my dream to become a marine biologist because my Bunsen burner wouldn't stay lit in the chemistry lab. My consolation prizes were a bachelor's degree in English and a master's in journalism.
After taking a year off from responsibility to write the Not-So-Great American Novel, I got hired as a copy editor on the San Antonio Express. I felt like a real newsman when I got yelled at just like Jimmy Olsen on the Daily Planet. But when I found out that I made less money than the city's bus drivers, I switched to the Houston Post.
As time went by, I signed up for one of life's standard packages: wife, kids, pets and a mortgage. But they all needed money, so I switched to producing publications for a corporation. After that, I helped start a communications firm; we played a lot of solitaire while waiting for the phone to ring.
Today, I'm happily immersed in a bilingual Spanish-English marriage where I get chewed out in both languages. Other highlights: I've run a marathon and didn't finish last; I took up yoga so it could put me in the hospital; I pick at my guitar like it's a scab; and I'm teaching myself French while struggling to beat the computer at Scrabble.